Present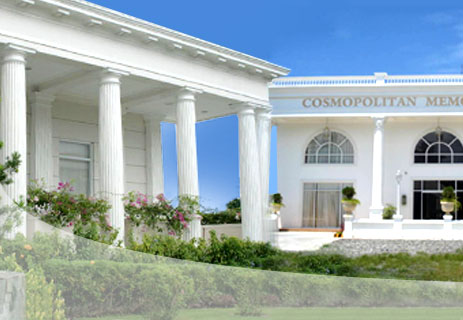 Our Story
Cosmopolitan Funeral Homes has been in the field of deathcare for the past 53 years.Pioneered by Mr. Renato Dychangco Sr.,the first branch opened inCebu in 1951 in a time when horse carriages, then known as "kalesas",were still in use.
Today, Cosmopolitan Memorial Chapels has grown into a full service, state-of-the-art funeral home and memorial service company that focuses on premium products, facilities and quality customer service and value.
The company has come a long way since the 1950's. We stand tall on our experience and our track record of quality performance, innovation and service through the years.
1951- Junquera Cebu City
Cosmopolitan Memorial Chapels opened its first branch in the heart of down-town Cebu. The business address is located at 16-18 Junquera Street, Cebu City. Through the years this pioneer branch has served as our head office and has seven memorial chapels and suites
1960- Villa Abrille,Davao City
Cosmopolitan opens in the city of Davao located in the Vila Abrille area.
1970 – Cagayan de Oro City
On September of 1970, Cosmopolitan established a memorial home,which included three chapel suites
1975 – Danao Branch, Cebu
Cosmopolitan saw the need to set-up a branch in Cebu's neighboring. In 1975, another branch was established in Danao, cebu City
1975 – Mandaue City, Metro Cebu
Cosmopolitan started a small operational chapel in the vicinity of Mandaue as a transition into a fully operational and funeral home
1976 – Lapu-Lapu City, Metro Cebu
ln 1976,an opportunity to open in Lapu-Lapu was offered and another memorial chapel was established.
1980 – Argao, Cebu Frovince
On February of 1980, Cosmopolitan opened in Argao to service the needs of the local community
1981 – Iligan City
Cosmopolitan Memorial Homes in Iligan City features three chapels and offers affordable alternatives
1984 – Bogo Branch, Cebu
Located at the tip of the island of Cebu, Cosmopolitan Bogo provides funeral services to the provincial community at affordable prices and packages.
1990 – Carcar Branch, Cebu
Cosmopolitan CarCar is servicing patrons in need of funeral services and caskets
1991 – Calinan, Mandaue City
Located in the middle of the highway, the branch opened to serveand assist in the needs of bereaved families
1992 – Nivel Hills, Cebu City
The Cosmopolitan Nivel Branch resonates of world-class character and state-of-the-art systems and technologies.The memorial home boasts of six luxurious chapels,a business centre & counseling facilities.
1995 – Valencia, Bukidnon
Cosmopolitam Bukidnon caters to local residents with a fully functional building and offers 2 chapel rooms.
2001 – lbabao, Mandaue City
The lbabao Mandaue branch was inaugurated in November 2001. It was said that it "boasts of class and character", The Mandaue branch holds five luxurious chapel suites.
2002 – Camus, Davao City
The Camus branch is Cosmopolitan's pride in the Mindanao region. The branch opened in November 2002.The facilities include 18 spacious and luxurious chapels". All the facilities and necessities can be found in a five star hotel" as quoted the Sun Star Daily Davao.